Farmers Market Benefits Now Available Through WIC - 07/2023
The WIC Farmers' Market Nutritional Program is now providing benefits to eligible WIC participants for the purchase of locally grown, unprepared Jersey fresh fruits, vegetables, and herbs. This opportunity is available to eligible pregnant women, post-partum women, and children aged 2-5.
Each eligible WIC participant will receive a one-time $30 benefit in the form of a QR code which can be redeemed for fresh fruits, vegetables, and herbs cultivated by local farmers. The Farmers Market benefits are separate from regular WIC benefits and must be used by November 30, 2023.
Farmer market benefits are available on a first-come-first-serve basis. Participants can request benefits by sending an e-mail to [email protected]. Alternatively, one can walk into the local WIC office during open hours (Monday through Friday, 8:00-4:30 and Wednesdays, 10:30-7:00). Participants can also reach out by calling 732-370-0122 and leaving a message.
New this year, you can access and manage your farmer market benefits on the WIC shopper app. If you don't already have the WIC shopper app, you can download following the instructions below: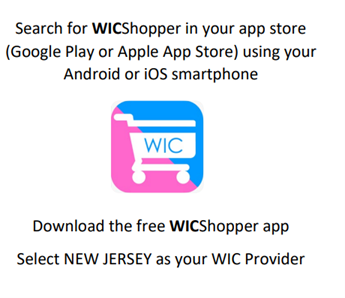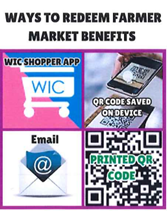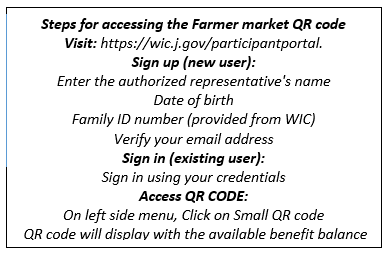 For more information about the WIC program, see the brochure below.