Important Updates and Reminders from the LRRC - 3/8/2020
NJFamilyCare Income Guidelines Updates
The 2021 income limits for NJ FamilyCare (Medicaid) eligibility have been released. If you narrowly missed qualifying for NJ FamilyCare in 2020, this change in the guidelines may make the difference and deem you eligible. The new income chart is below. For more information about NJFamilyCare, including how to read the below chart and how to apply for coverage, see our NJ FamilyCare Brochure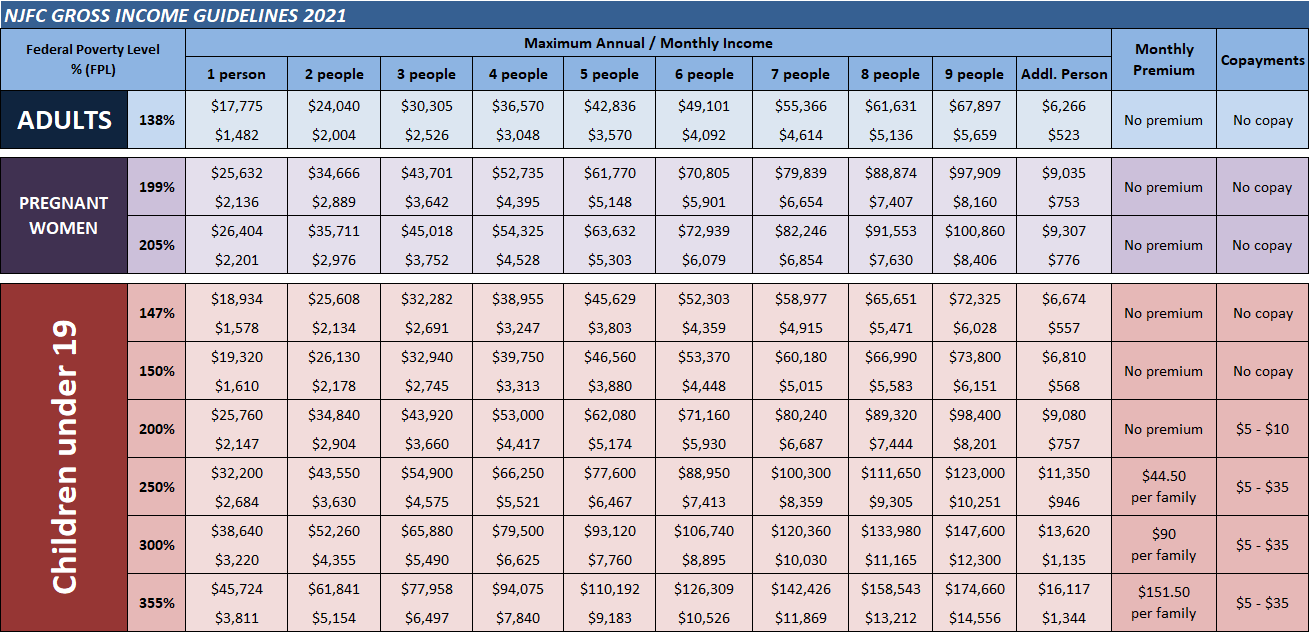 Tax Update
If you received Family Leave Insurance at any point during 2020, download your 1099-G by clicking here: https://www.myleavebenefits.nj.gov/labor/myleavebenefits/help/taxforms.shtml. It will not be mailed or e-mailed to you.
If you were eligible for stimulus payments but did not receive them, speak to an accountant about claiming the Recovery Rebate Credit when you file your 2020 taxes. You should speak to an accountant about filing a federal tax return to claim the stimulus payment, even if you are not required to file taxes.
Free tax preparation options:

VITA volunteers may help you prepare your tax return if you are a working family with earned income under $57,000 or an individual with earned income under $35,000. Due to COVID-19, this service will not be available in-person at the LRRC this year. For more information and to schedule an appointment, go to https://fulfillnj.org/get-help/#tax-help or call 732-643-5888. This service is recommended for very simple returns only.
Individuals and families with a combined income of $72,000 or less in 2020 can visit www.irs.gov/freefile to see free file options.
Unemployment Insurance Updates
If you were unemployed since March 2020, you do not need to renew your claim. Your claim's review will occur automatically, and the Department of Labor will only contact you if more information is needed. When the review is complete, you will receive confirmation that your weekly certification for benefits was successful. Continue certifying as usual. If you did not have sufficient earnings in the new base year, you will continue receiving benefits based on your old claim. If you did fulfill the work requirement, a new claim will be filed on your behalf, and your benefit amount may change.
For the full LRRC COVID-19 related paid work leaves FAQ document, see Government Help FAQ
Health Insurance – Special Enrollment Periods (REMINDER)
COVID-19 Special Enrollment Period – Anyone can enroll in or change private insurance plans until May 15. Coverage will begin the first of the month following plan selection, no documentation is required, and you do not have to have been affected by COVID to qualify.
New Pregnancy Special Enrollment Period – A woman had 60 days to enroll in or change coverage from the date she reports her pregnancy on her application. No documentation is required, and coverage can be retroactive to the beginning of the pregnancy.
Home Buyer Programs (REMINDER)
If you are considering purchasing a home within the next year or two, we strongly advise that you sign up for an LRRC housing class currently being held via ZOOM due to COVID-19. After attending the first session, you can schedule an appointment with a housing counselor who will discuss your eligibility for available mortgage programs that provide lower mortgage rates, lower down payment requirements with no mortgage insurance, and closing cost assistance. To date, we have matched over 1,000 home buyers with programs offered by various lenders. Some of these homebuyers have a relatively high income or already own a home. Unfortunately, clients sometimes contact us when they are too close to closing, and it is too late to access these programs. Therefore we encourage anyone thinking about buying a home to attend our housing class right away. For more information or to schedule a slot in an upcoming housing session, call 732-942-9292 ext. 9-743.